CO2 Laser Engraving and Cutting Machine- SN 6090
High-Quality Laser Engraving and Cutting machine

Vinyl Plotter C24 (720mm)
24"Vinyl Cutting Plotter Support Auto contour cutting. It can cutting a variety of special materials, such as soft fabric, transparent materials, reflective materials, black materials, white materials, color materials.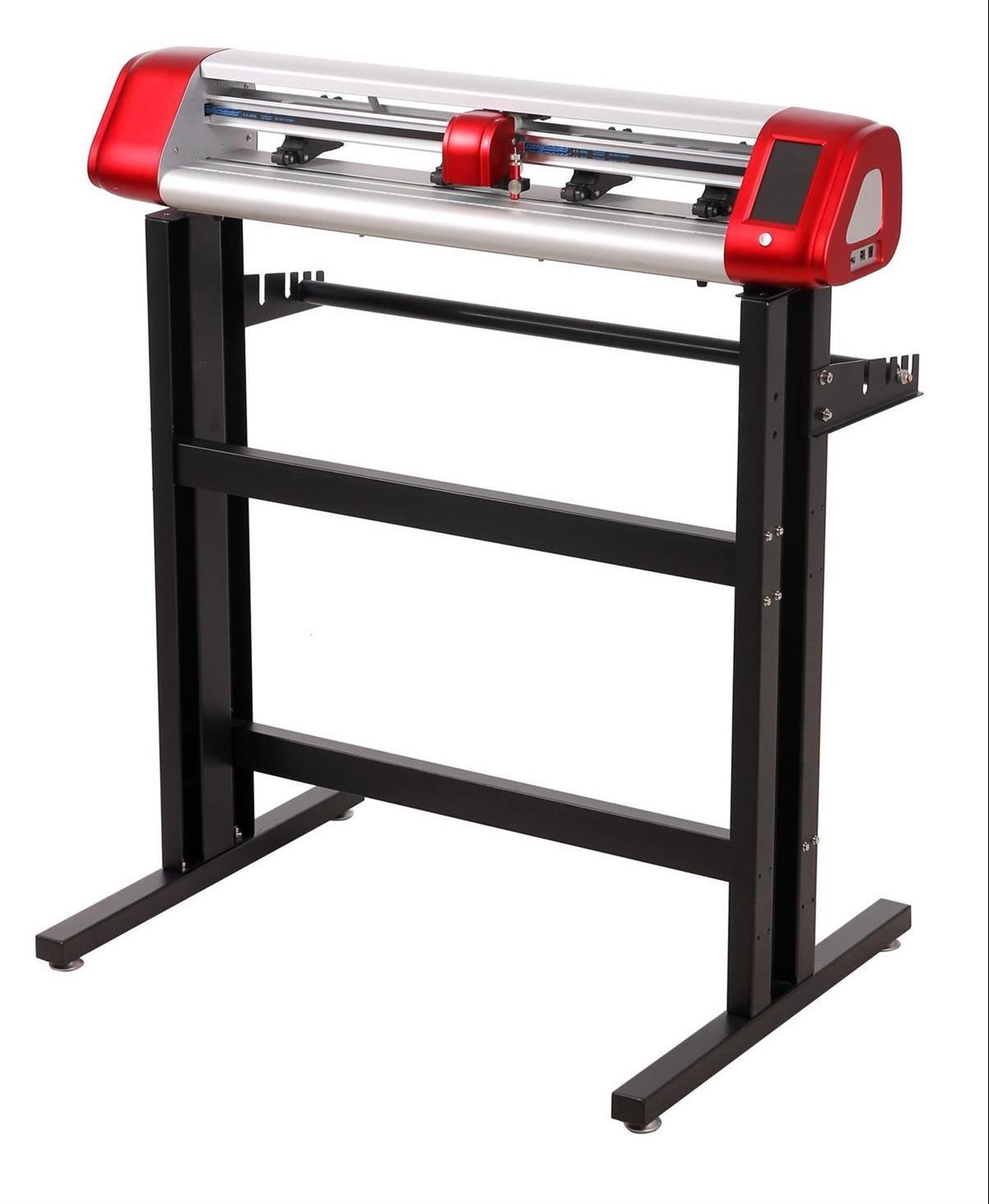 Features of C24.
Large touch screen menu High sensitivity.
Simple use and straightforward operation.
Multi-languages
User-friendly Touchscreen / Keypad for easy handling
Powerful function like: Can array-freely set to cut many lines and many columns, and free set distance between each copy.
 Multi-interface
USB cable (real USB, no need to install driver)
U disk (support both normal cutting and contour cutting)
Wifi (optional)
Compatible with Windows & Mac
Camera for auto contour Cutting.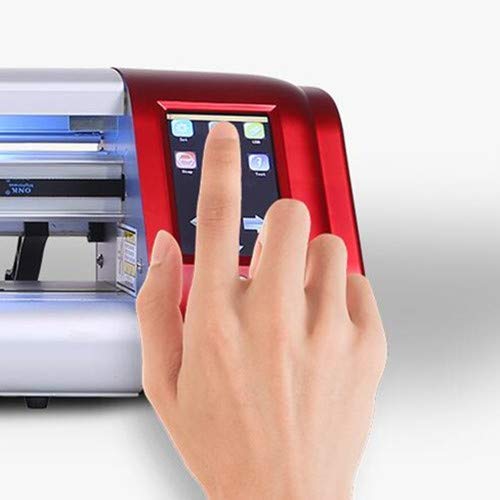 This Plotter patent feature-build in real camera for auto print and cut.
High-accuracy, fast speed and capable for any color materials and marks, such as,
 High reflective materials – Can cut 3M Diamond reflective film (Huge force :max 2000g)
 Various color materials
 Transparent materials
 Any color marks
Fully Adjustable Pinch Feed Assembly.
The pinch wheels can be individually arranged in a more convenient location, without cutting mat, it can cut materials ranging from 20mm (0.8″) to 260mm (10″), up to 24″ on the larger model
This plotter model C vinyl cutter has a cute body but has an industrial professional design with a metal body. Stronger, stable, and higher accuracy. It has a max 750g cutting force, easily cut many materials including vinyl, cardstock, HTV, fabric, EVA foam, and more.
Multi-Colored LED Lighting
Users can freely change LED light color and it is cool when use a cutter in the evening.
Laser Engraving(optional)
The vinyl cutter has an optional laser part. Easily hang it on carriage cover, user can engrave on wood, paper ect.
Hard Diamond blade. User can easily engrave on metal, acrylic etc
What type of camera that used for C24 plotters?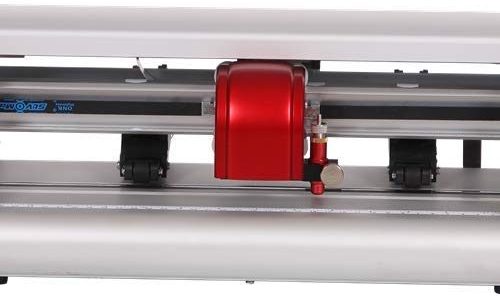 Which is Andor's iKon-L High Dynamic Range CCD camera that offers outstanding resolution, field of view, sensitivity, and dynamic range performance. It boasts a proprietary large area 5-stage TE cooler enabling cooling of this large area sensor down to an unprecedented -100°C without the aggravation of liquid nitrogen. NEW 'Dual AR Extended Range' sensor option offers the broadest QE coverage, from UV to NIR.
• TE cooling to -100°C
• Large area 2048 x 2048 sensor
• 4-speed readout up to 5 MHz
• Low read noise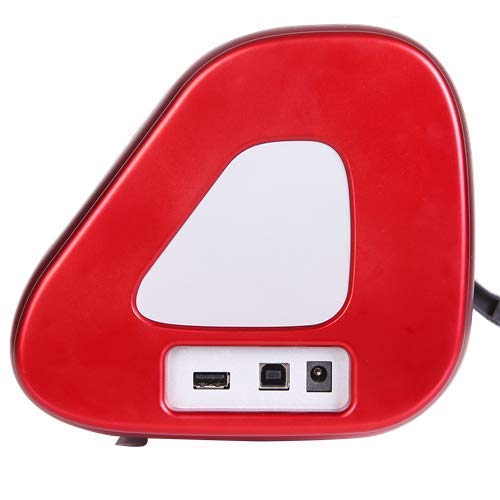 Sublimation 3D Vacuum Heat press ST-3042
What is Sublimation 3D Vacuum Heat press ST-3042 machine?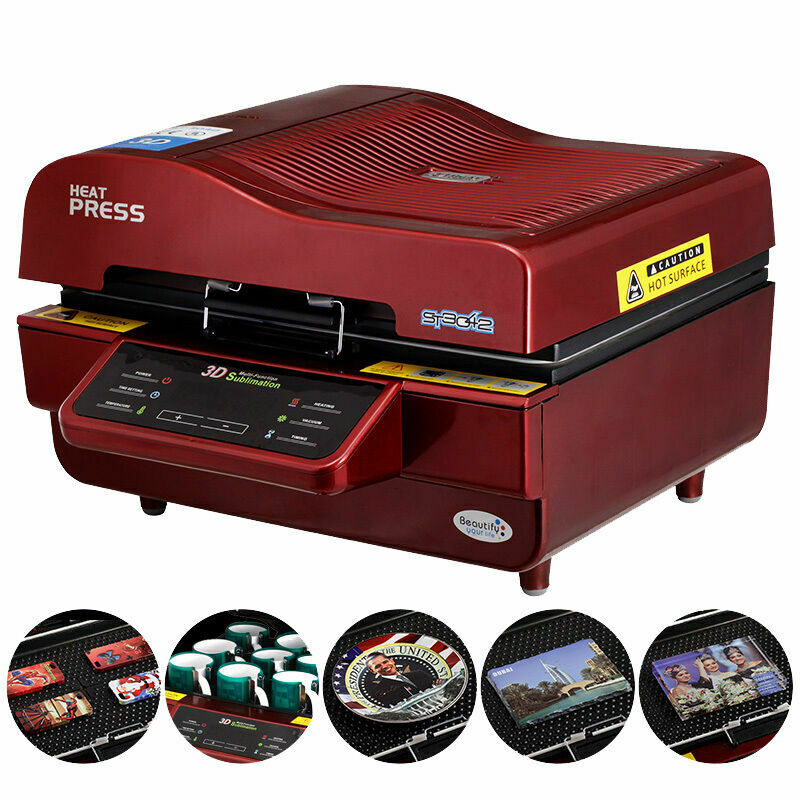 This is a machine designed to print a pattern or graphic using vacuumed and heat on a verity material such as a mobile cover, mugs, Metal sheets, Rocks and Tiles. It is the application of heat and pressure for a predetermined period of time. The pattern is printed using sublimation ink on sublimation paper that allows the pattern to be changed. Using this technology, you can get very effective designs and great outputs.
Specification of this machine
| | |
| --- | --- |
| Product Code | ST-3042 |
| Type | Vacuum Heat Press Machine |
| Weight | 26kg |
| Voltage | 220V |
| Machine Power | 2900W |
| Vacuum flow | 33L/min |
| Max Vacuum | -640mmHg |
| Usage | Phone case, Mug, Glass Crystal, Rock, Metal, Plate |
| Warranty | 1 Year |
What supplies are required?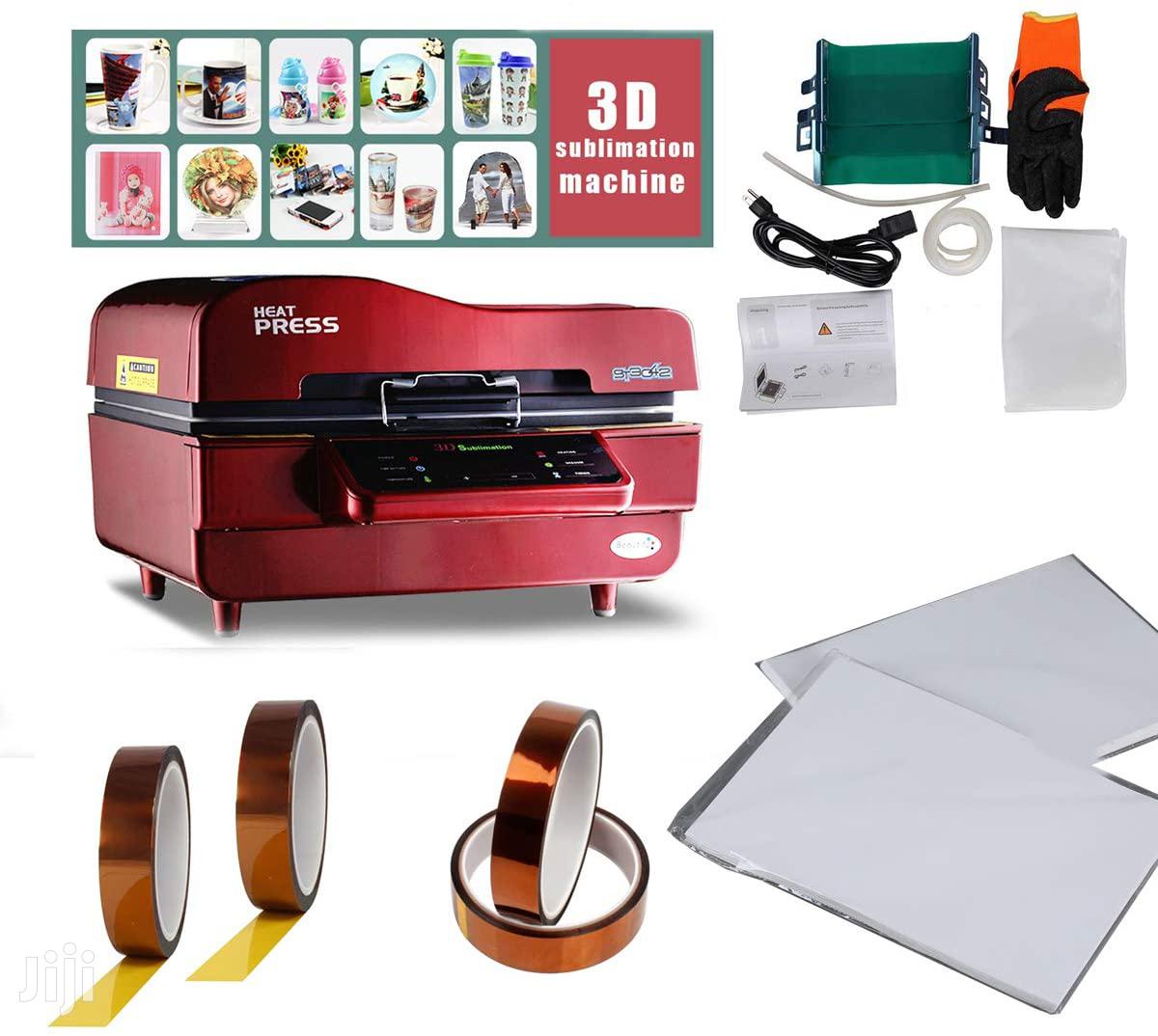 To print the material, we need an Inkjet printer, Sublimation Paper, Sublimation material or the necessary material, Sublimation Ink set, heat tape, heat glows and the 3D machine.
Step by step guide to print the material:
Design the artwork on your PC.
Print out the image or text to the sublimation paper.
Cut out the specific image.
Wrap it around the sublimation paper into the sublimation coated mug and taped it on with heat tape if it is another material fix the picture in to the material.
Set the time and temperature.
Rock – Temperature 180c -8 minutes
Plate – Temperature 180c – 6 minutes
Photo glass frame – Temperature 180c – 7 minutes
Phone covers – Temperature 180c – 9 minutes
Mugs- Temperature -14 minutes
Vacuumed it and press the timing and print will start.
To print the white mug, take out the aluminum board out.
Lockdown the lid of the machine.
Once the time is done safely remove the sublimation paper using heat glows (Don't burn yourself) and check the printed item.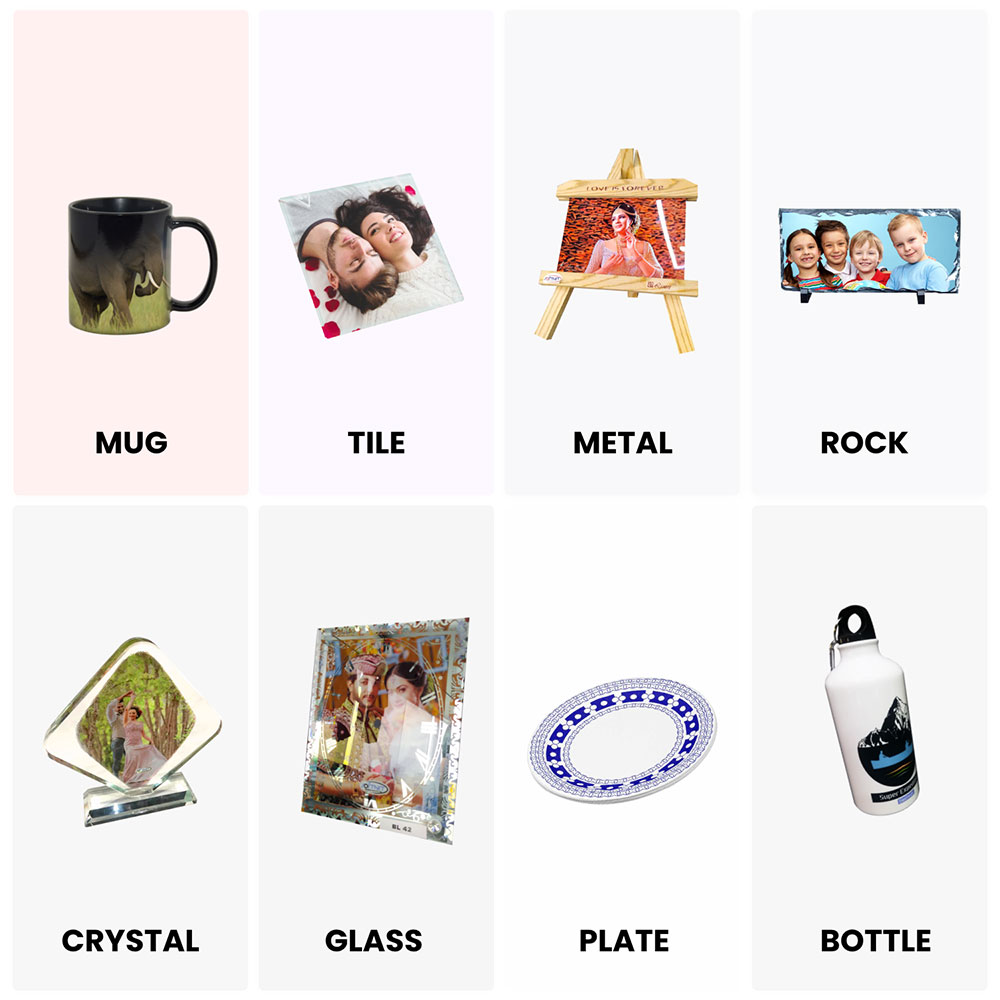 Features of this machine.
This machine covers all the function of the heat transfer machine
Sublimation transfer on different sizes and shapes.
Heat transfer for various type of materials like mug, glass, crystal, metal, and stone
The machine special high impedance contingent.
Insulation materials.
Lightweight and safe
Streamlined
resistance heat strips
Compact internal structure
Simple yet stylish appearance
Internal feature 180c clamshell design, easy operations, and space-saving
Plump dots surface design
Die-cast aluminum alloy heating.
Silicon Rubber to vacuum purpose.
Far infrared radiation coating
Software and hardware dual temperature control design
Has an activated carbon air filter to ensure health and safety while operating.
User friendly.
12 mugs at a time great for mass production
Easy to set time and temperature
In detail about the Machine
Price
139,000/=
Quality of the output
High Quality
Power
2900 volts
Advantages
·       Multifunctioning machine

·       No need to go for the other machines.

·       Budget friendly.

·       3D Facility.

·       User Friendly.

·       Easy to carry.

·       Excellent quality of the output.

·       12 mugs at a time

Disadvantages
·       Unable to print fabric material.

·       It takes the same amount of current to pint a mug and at the same time to print 12 mugs.

·       3 Phase power circuit need for this machine and will not compromise with single-phase circuit.

Package
Guide Book, Power Code, 2 mug clamps , 1 Bottle clamps, Air horse, 4 Sample materials and the machine.
Company Support
·       One-year warranty period.

·        Training session.

·       Quickly identify the technical issue and do the needful.

·       Best budget friendly price ranges.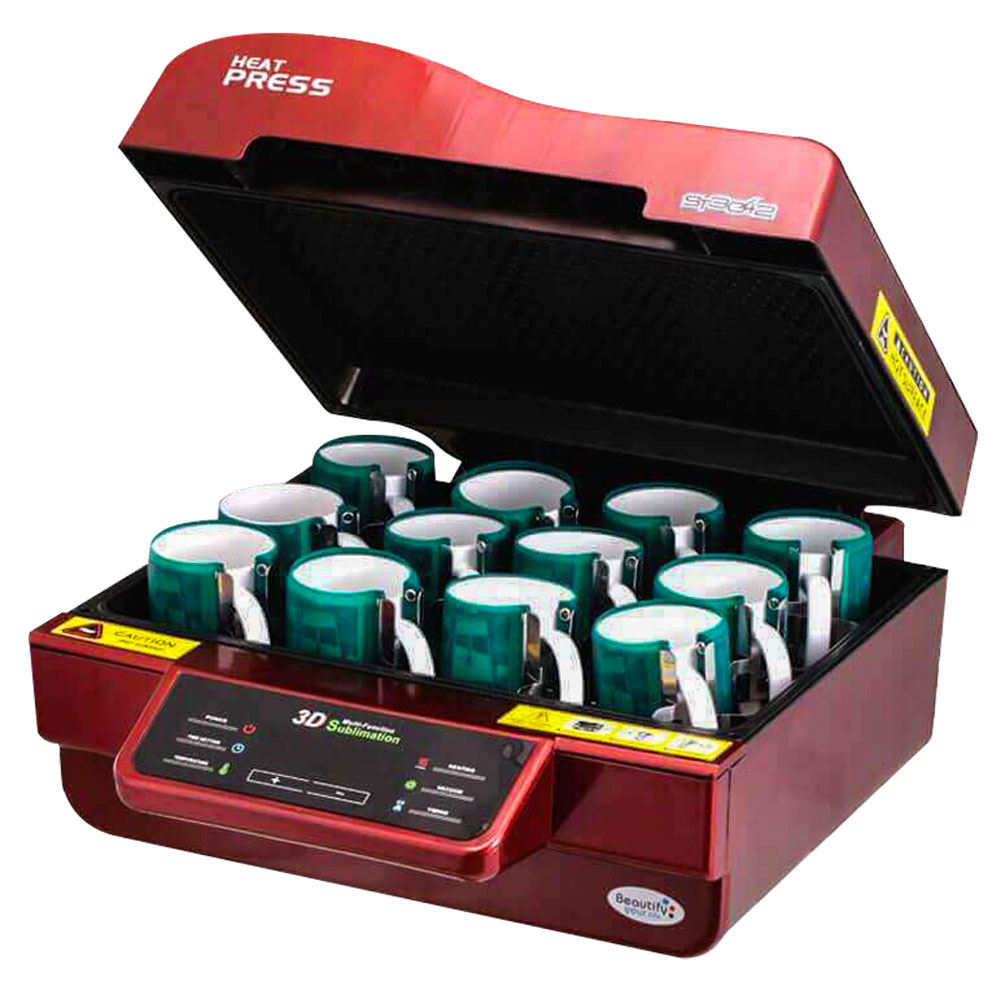 Sublimation Double Mug Press Machine Review
Ideal for long and high-volume production runs, the highly efficient ST-210 Mug Heat Press unit offers the ability to heat two mugs at once. Smooth production is backed by the two individually programmed elements, so you can heat two objects with different settings at the same time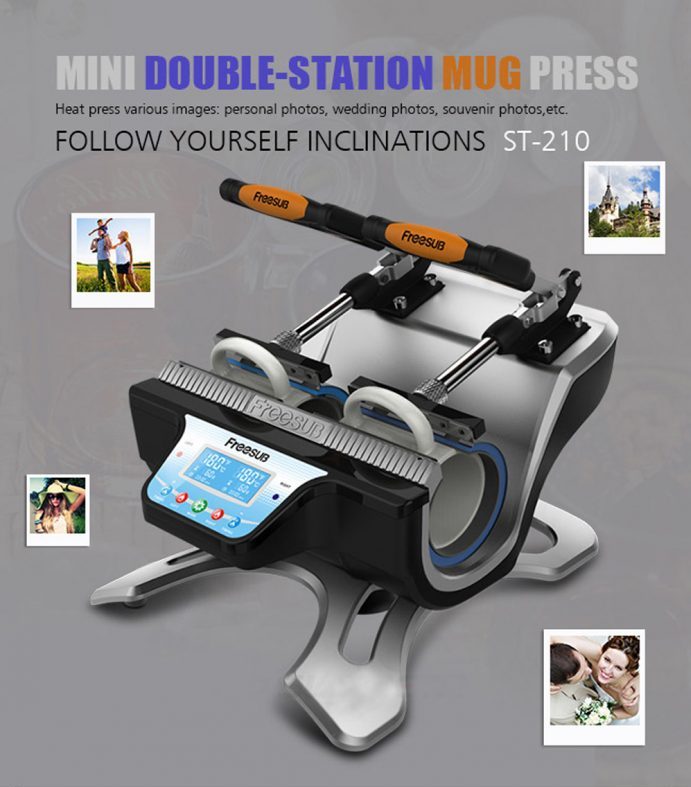 Advantage of the New Machine:
Double-station control circuit board

Intelligent Temperature Control, small temperature differences, long service life.

two temperature displays: Fahrenheit and Centigrade.

processing capacity can be checked.

Quantitative counting, you can preset processing capacity when bulk processing, the machine will warn you when arrives.

the machine comes with a temperature correcting function, that makes the temperature on the screen the same as real temperature.

Double-station can transfer two mugs at a time.

Step by step guide to print the mug:
Design the artwork on your PC.

Print out the image or text to the sublimation paper.

Cut out the specific image.

Wrap it around the sublimation paper into the sublimation coated mug and taped it on with heat tape.

Put the mug in the middle of the clamp.

Lockdown the lid of the machine.

Set the time as 100 seconds and temperature 180C

Once you put the mug the temperature will cool down but, normally, the temperature will cool down for a moment after putting your mugs and eventually will start heating up again.

Once the time is done safely remove the sublimation paper using heat glows (Don't burn yourself) and put the mug into the water-filled container.

After 5 minutes your mug is ready to use.


Fiber Laser Machines in Sri Lanka

The fiber laser cutter is a laser metal cutting system which is capable of metal cutting up to 10 times faster than conventional CO2 systems. It also saves up to 90% of the operational cost compared to any other metal cutting system.  This system is High quality, high speed, and high in precision, high efficiency, and dedicated than CO2. The fiber laser cutter is also known as a fiber laser f metal cutting machine, fiber laser cutting machine, fiber laser cutting system, fiber laser cutting equipment, and metal cutting machines.
Lifetime up to 100,000 working hours, and it is suitable for all kinds of metal cutting which will be your good metal working partner.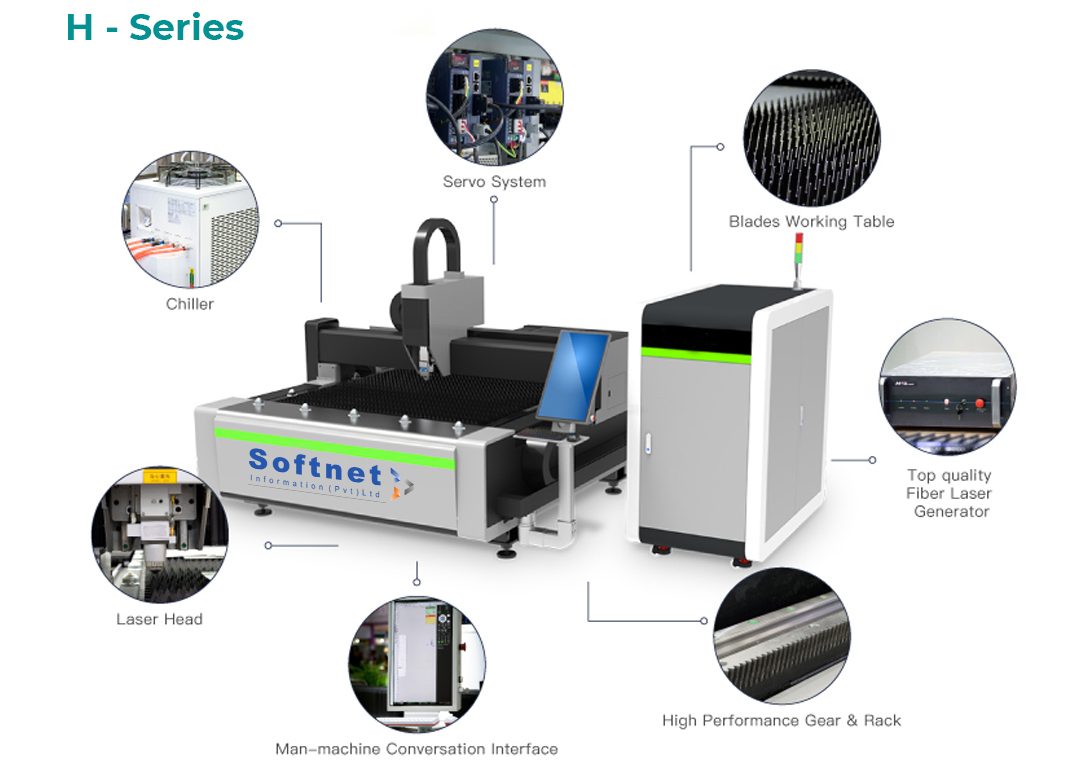 Softnet offer fiber laser E (economic) model and H (Heavy-duty) Model cutting machines with a power range from 1000-12000W, capable of cutting metal sheets/plates and metal tubes/pipes of stainless steel, carbon steel, galvanized steel, aluminum zinc plate, aluminum alloy, titanium alloy, copper, brass, iron and other metal materials with 0.1 to 30mm thicknesses. The laser generators and cutting heads are world-class brands, such as Ray tools (Switzerland-made) cutting heads. High accuracy SHIMPO speed reducer, is from Japan and Taiwan made  HIWIN, and also Japan made SMC pneumatic N2 control. We offer the World's top brands of laser source IPG and MAX and RAYCUS. And we also offer economical solutions.
The specialty of Softnet is maintaining a large number of spare parts stocks, which will enable us to replace any kind of spare part with no time at all. Keeping the downtime of these machines minimal. We offer a complete two years warranty and our skilled technicians provide island-wide service making us an exclusive Fiber Laser service provider which is unmatchable by anyone else in the industry.
Hotline : 0777907779
Whatsapp / Viber 0777907779
Location: 118 High-Level Rd, Maharagama. 10280