Fiber Laser Machines in Sri Lanka

The fiber laser cutter is a laser metal cutting system which is capable of metal cutting up to 10 times faster than conventional CO2 systems. It also saves up to 90% of the operational cost compared to any other metal cutting system.  This system is High quality, high speed, and high in precision, high efficiency, and dedicated than CO2. The fiber laser cutter is also known as a fiber laser f metal cutting machine, fiber laser cutting machine, fiber laser cutting system, fiber laser cutting equipment, and metal cutting machines.
Lifetime up to 100,000 working hours, and it is suitable for all kinds of metal cutting which will be your good metal working partner.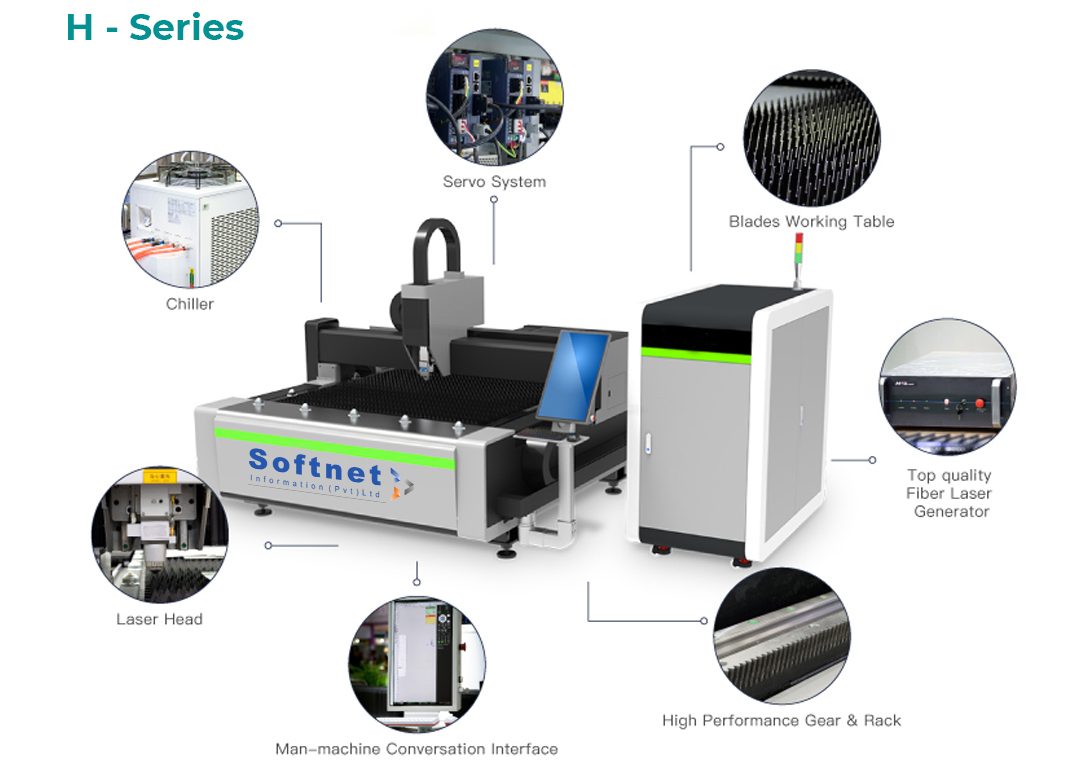 Softnet offer fiber laser E (economic) model and H (Heavy-duty) Model cutting machines with a power range from 1000-12000W, capable of cutting metal sheets/plates and metal tubes/pipes of stainless steel, carbon steel, galvanized steel, aluminum zinc plate, aluminum alloy, titanium alloy, copper, brass, iron and other metal materials with 0.1 to 30mm thicknesses. The laser generators and cutting heads are world-class brands, such as Ray tools (Switzerland-made) cutting heads. High accuracy SHIMPO speed reducer, is from Japan and Taiwan made  HIWIN, and also Japan made SMC pneumatic N2 control. We offer the World's top brands of laser source IPG and MAX and RAYCUS. And we also offer economical solutions.
The specialty of Softnet is maintaining a large number of spare parts stocks, which will enable us to replace any kind of spare part with no time at all. Keeping the downtime of these machines minimal. We offer a complete two years warranty and our skilled technicians provide island-wide service making us an exclusive Fiber Laser service provider which is unmatchable by anyone else in the industry.
Hotline : 0777907779
Whatsapp / Viber 0777907779
Location: 118 High-Level Rd, Maharagama. 10280