Sublimation Double Mug Press Machine Review
Ideal for long and high-volume production runs, the highly efficient ST-210 Mug Heat Press unit offers the ability to heat two mugs at once. Smooth production is backed by the two individually programmed elements, so you can heat two objects with different settings at the same time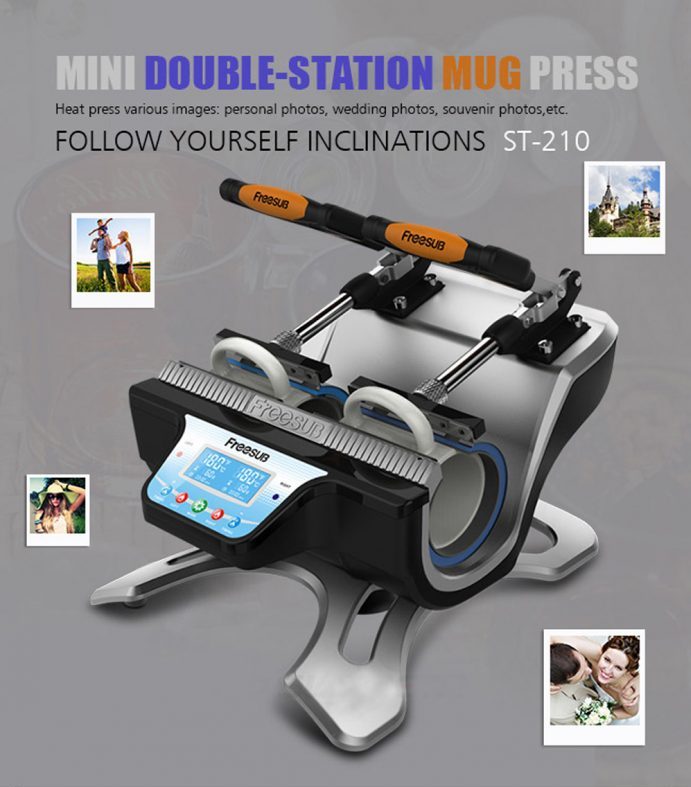 Advantage of the New Machine:
Double-station control circuit board

Intelligent Temperature Control, small temperature differences, long service life.

two temperature displays: Fahrenheit and Centigrade.

processing capacity can be checked.

Quantitative counting, you can preset processing capacity when bulk processing, the machine will warn you when arrives.

the machine comes with a temperature correcting function, that makes the temperature on the screen the same as real temperature.

Double-station can transfer two mugs at a time.

Step by step guide to print the mug:
Design the artwork on your PC.

Print out the image or text to the sublimation paper.

Cut out the specific image.

Wrap it around the sublimation paper into the sublimation coated mug and taped it on with heat tape.

Put the mug in the middle of the clamp.

Lockdown the lid of the machine.

Set the time as 100 seconds and temperature 180C

Once you put the mug the temperature will cool down but, normally, the temperature will cool down for a moment after putting your mugs and eventually will start heating up again.

Once the time is done safely remove the sublimation paper using heat glows (Don't burn yourself) and put the mug into the water-filled container.

After 5 minutes your mug is ready to use.